Gina Haspel CIA Torture Cables' Dates and Times Declassified
Washington, D.C., October 18, 2018 – The National Security Archive's Freedom of Information lawsuit against the CIA has won release of the previously censored dates and times on cables sent by future CIA director Gina Haspel when she commanded a CIA black site in Thailand in 2002 where interrogators tortured and waterboarded an al-Qaeda suspect, according to the new documents posted on the Archive's Web site today.
The new versions of the Haspel cables now provide a detailed chronology of the CIA torture, which began on "Day One" of the suspect's confinement at the site, November 15, 2002, and continued even after his removal to a different black site, in Poland, on December 4, 2002.  The torture included being slammed against walls, forced nudity, confinement in coffin-sized boxes, shackles and hoods such as seen in the infamous Abu Ghraib photographs, and waterboarding – which U.S. prosecutors established as a war crime in proceedings against Japanese soldiers after World War II.
The CIA had previously redacted the dates and times along with large portions of the texts when the Archive won release of the cables in August 2018.  The CIA claimed that these details would reveal still-sensitive sources and methods of intelligence gathering that were exempt from the FOIA.
But Archive staff, working through pro bono counsel Peter Karanjia and Lisa Zycherman at Davis Wright Tremaine, demonstrated to the CIA and the U.S. Attorney's office that precisely such dates and times had been released in other FOIA cases with no damage to national security, thus casting serious doubt on the CIA's indiscriminate use of the "(b)(1), (b)(3)CIA Act, (b)(3)NatSecAct" claim to turn major portions of the released cables into Swiss cheese.
One of the newly released portions documents Haspel's own intelligence failure in believing the al-Qaeda suspect had imminent attack information (what defenders of torture call the "ticking time bomb" rationalization).  Cable 11258 sent on November 16, 2002 admitted that the second torture session "produced little actionable threat information" but "left base officers guardedly optimistic that the aggressive procedures may already be having an impact on subject's resistance posture."  Haspel wrote, "Although base has little doubt that subject is withholding actionable information, the shock of his first hours at [black site] appears to have focused him on our interests and on the severity of his predicament."  The Senate Intelligence Committee report declassified in 2014 documents that the suspect in fact did not have imminent threat information, and had already confessed any useful intelligence during his prior captivity in Dubai.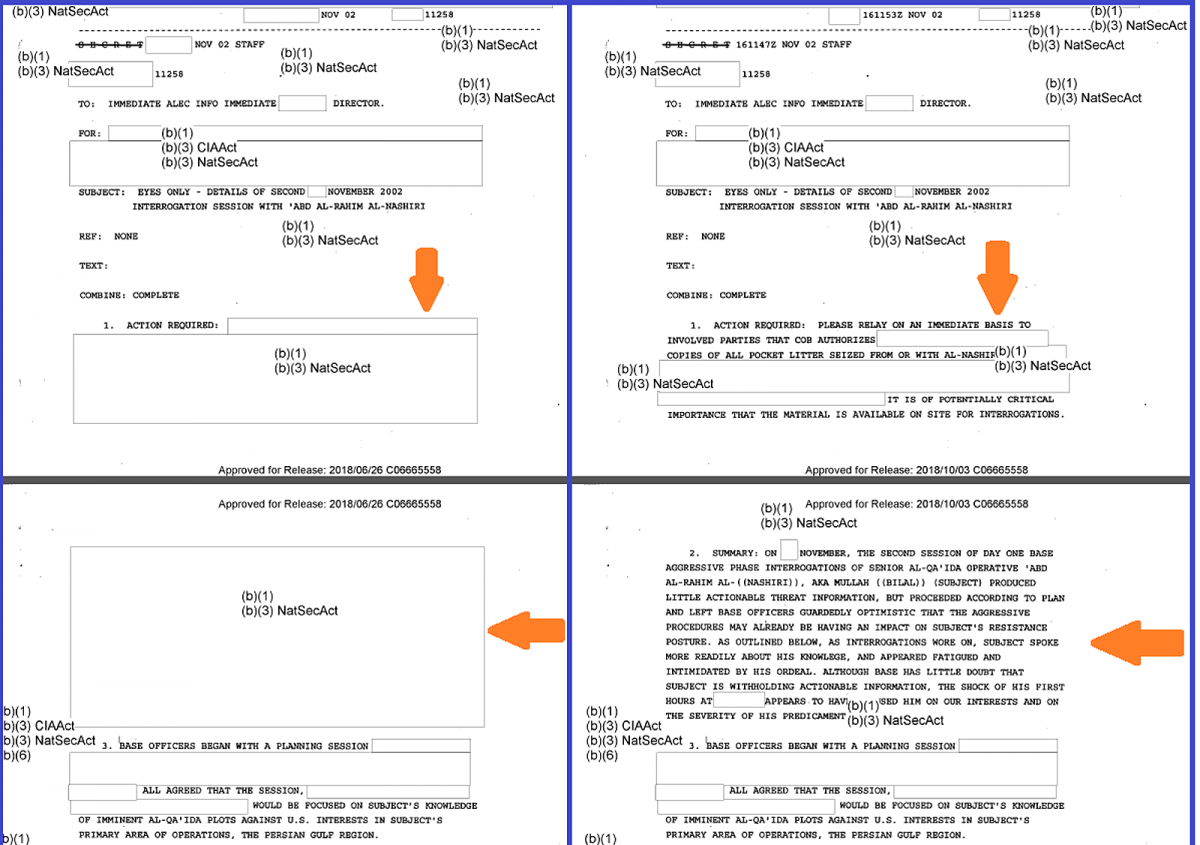 The CIA's latest release (right side) shows the base officers were "guardedly optimistic that the aggressive procedures may already be having an impact on subject's resistance posture."
"The Freedom of Information Act gives leverage to citizens to hold their spies accountable at least to the judgment of history," said Archive director Tom Blanton, who identified the Haspel cables in an obscure footnote to the Senate Intelligence Committee's torture report, and filed a FOIA for them after Haspel was nominated by President Trump to be CIA director.  The Archive went to court on April 27, 2018, but CIA refused to release the cables in time for Haspel's rushed confirmation process, which took place mostly behind closed doors (she was confirmed on May 17, 2018 by a vote of 54-45).
Read the documents