Link:
Operation Condor: National Security Archive Presents Trove of Declassified Documentation in Historic Trial in Argentina
Key document: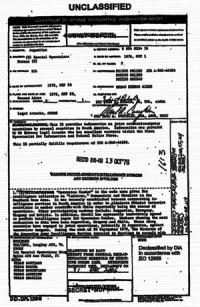 Defense Intelligence Agency, Intelligence Report, Special Operations, October 1, 1976, Secret/Noforn
"Operation Condor is the code name given for intelligence collection on leftists, communists and Marxists in the Southern Cone Area. It was recently established between cooperating intelligence services in South America in order to eliminate Marxist terrorist activities in member countries with Chile reportedly being the center of operations. Other participating members include: Argentina, Paraguay, Uruguay and Bolivia … Members showing the most enthusiasm to date have been Argentina, Uruguay and Chile."