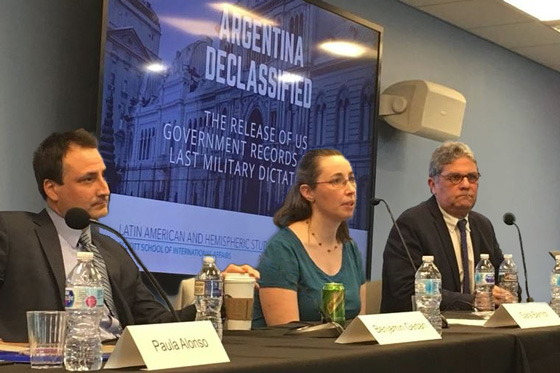 Benjamin Gedan, Former South America director on the National Security Council, Sara Berndt, from the U.S. State Department Office of the Historian, and Carlos Osorio, director of the Southern Cone Documentation Project at the National Security Archive, at a panel on April 5, 2018, at the Elliott School of International Affairs. 
---
Declassification Diplomacy: United States Declassification Project for Argentina, April 12, 2019
US National Archives
April 12, 2019
---
VIII Jornades AAV 2017 - Ponència de Carlos Osorio
Arxivers Valencians
Septiember 27, 2018
---
Listen to Archive analyst Carlos Osorio (pictured above at the Argentine embassy in Washington on March 23, 2015) testify at the Rome trial, where he provided dozens of declassified documents as evidence.
---
Watch Archive analyst Carlos Osorio's testimony at the trial where he provided hundreds of declassified documents as evidence.
Osorio Testimony 3/6/2015 Part 1
Osorio Testimony 3/6/2015 Part 2
Osorio Testimony 3/6/2015 Part 3
Osorio Testimony 3/7/2015 Part 1
Osorio Testimony 3/7/2015 Part 2
---
Inside Story Americas - Tracing the shadows of 'Operation
Condor' Al Jazeera
March 6, 2013
---
Kissinger 'supported' Argentine junta according to declassified documents
AP
December 4, 2003