Trump Hides White House Visitor Logs
Washington, D.C., April 14, 2017 – The Trump White House announced today it would no longer disclose the routine visitor logs maintained by the Secret Service and published online by the Obama administration since 2009, and claimed national security and privacy risks.

"This is a White House lie," said National Security Archive director Tom Blanton. "There is no national security risk to releasing the visitor logs; we have seven years of nearly 6 million Obama visitors that prove no problem. Privacy was protected there too. What's really going on is the swamp suits Donald Trump just fine."
Anticipating the Trump move, earlier this week the Archive and its senior analyst Kate Doyle joined with the Knight First Amendment Institute at Columbia University and CREW, the watchdog group that first sued Presidents George W. Bush and Obama for copies of the visitor logs, in a new Freedom of Information lawsuit against the Department of Homeland Security, parent agency of the Secret Service, to open the Trump logs – including at Trump Tower and Mar-a-Lago.
The lawsuit focuses on the fact that protecting the President and vetting White House visitors is central to the Secret Service's statutory mission, making the records clearly under agency control.  In contrast, today's White House announcement tries to exempt the logs from the Freedom of Information Act by claiming they're not agency records.
The Archive published screen shots of the White House "Visitor Records Requests" Web page, one from the Obama White House showing the routine lists of visitors, and one from last month saying "This page is being updated.  It will post records of White House visitors on an ongoing basis, once they become available."  Today's Web page says only "Thank you for your interest in this subject."
Blanton commented, "Open government is taking a beating from Donald Trump.  His very first bill signed into law threw a shroud over oil companies' payments to foreign governments.  He's the first president in decades to refuse releasing his tax returns.  Now he's covering up who comes to lobby him, including foreigners – when the American people have a right to know."
DOCUMENTS
Document 1 – Complaint for Injunctive and Declaratory Relief, Doyle v. DHS, April 10, 2017.
Document 2 – Visitor log screen shots taken from the Obama Whitehouse.gov.
Document 3 – Kate Doyle's FOIA Request to the Secret Service, March 10, 2017.
Document 4 – Kate Doyle's FOIA Request and Appeal to the Secret Service, January 23, 2017, and February 24, 2017, respectively.
Document 5 - White House and Vice President's Residents Visitor Records Litigation Matters, September 3, 2009.  
Document 6 - Memorandum Opinion, Judicial Watch v. United States Secret Service, August 17, 2011.
Document 7 - Amicus Brief of the Citizens for Responsibility and Ethics in Washington in Support of the Appellee, Judicial Watch v. United States Secret Service, May 8, 2012.
Document 8 - Opinion of the Court, Judicial Watch v. United States Secret Service, August 30, 2013.  
Document 9 – Senators Ron Wyden (D-Ore.), Sheldon Whitehouse (D-R.I.), Jack Reed (D-R.I.), Tom Carper (D-Del.), Tom Udall (D-N.M.), Kirsten Gillibrand (D-N.Y.), Richard Blumenthal (D-Conn.), and Chris Van Hollen (D-Md.) letters to President Donald Trump and the Secret Service, March 6, 2017.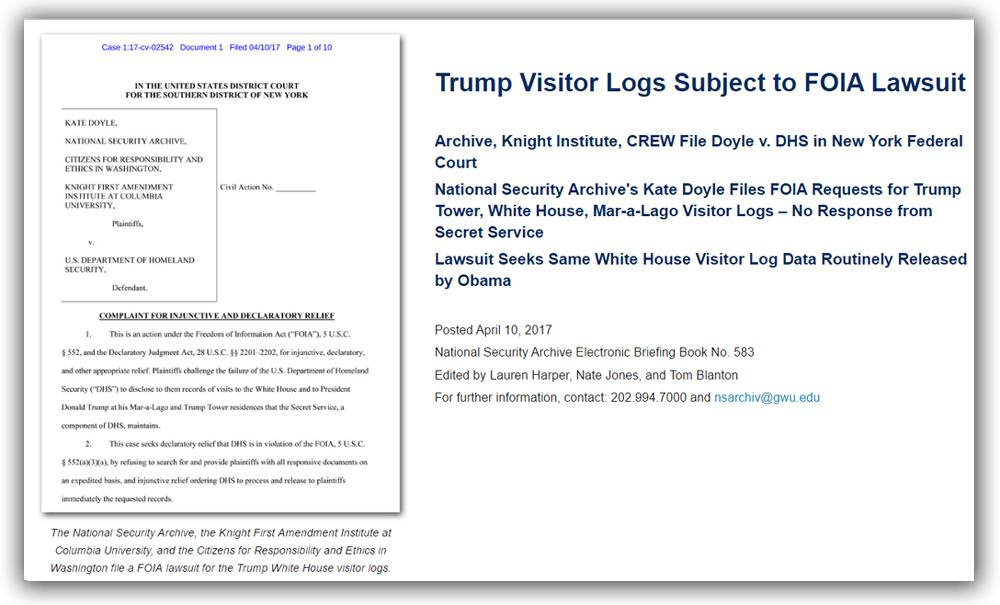 Read the National Security Archive's previous Trump visitor log posting