Latest close call on government spending bill recalls impact of 2013 shutdown on Cyber Mission Force training
Washington D.C., November 21, 2019 – Hours before a shutdown deadline, President Trump today signed a short-term spending bill that will keep the government open until the end of December 2019. The last-minute nature of the process recalled an earlier experience that had raised significant concerns about, among other things, cybersecurity preparedness.
The inability of the Senate to agree on a similar spending bill in 2013 resulted in a furlough of workers and a suspension of some government activities, which was hugely disruptive to the training timeline of the then-new Cyber Mission Force (CMF) within US Cyber Command. In all, over 278,000 total hours of training for CMF personnel were lost due to the shuttering of the U.S. Federal Government for a portion of the 1st quarter of FY 2014.
In 2014, 25 individual training courses that relied on funds from FY 2013 had to be delayed or rescheduled, with additional funding required to effect the rescheduling of courses and pay costs and contract penalties to compensate vendors. The delayed receipt of FY 2014 funding resulted in the postponement of an additional 44 courses. The re-shuffling of training course schedules led to scheduling conflicts for both trainees and instructors alike, necessitating swing shifts to be adopted for the Joint Network Attack Course and causing a full cohort of 19 trainees to lose the opportunity to take the Mission Commanders Course.
The effect of the 2013 shutdown was to disrupt the training of more than 1,000 CMF trainees, and the resulting delays to the training schedule brought about by the staff furlough were projected to potentially impact the operational capacity of the CMF in 2014 and have a domino effect on training schedules into the future.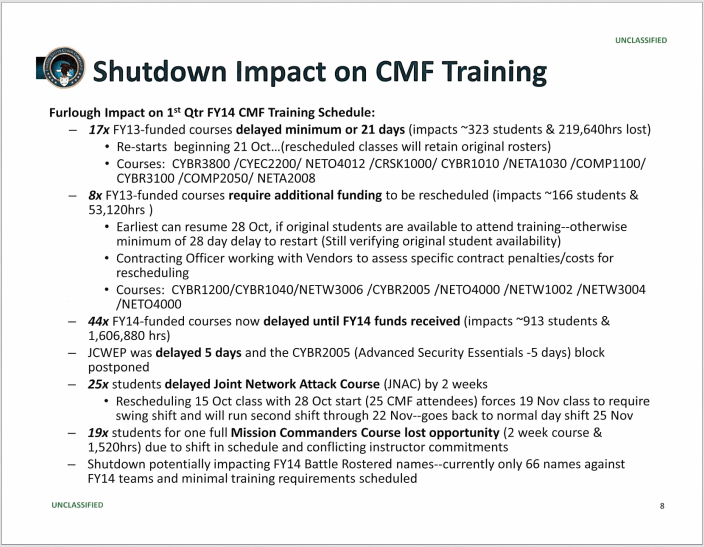 USCYBERCOM, "Cyber Mission Force Training & Cyber Flag Update", October 22 2013. Unclassified. page 21