Cyber Brief: U.S. Seizure of Iranian 'Disinformation Websites'
Washington, D.C., July 8, 2021 – The Justice Department's recent seizure of more than 30 US-owned web domains accused of disseminating Iranian disinformation is eliciting alarm from free speech advocates and foreign policy analysts alike. On June 22, DOJ announced the seizures related to a violation of U.S. sanctions as the result of an investigation by the Department of Commerce's Bureau of Industry and Security, Office of Export Enforcement, and the FBI.
A notice bearing the seals of the FBI and the Bureau of Industry and Security adorned the homepage of PressTV.com, an Iranian state-owned English news network and one of the targeted sites, informing visitors the domain had been seized by the United States Government. Thirty-two other websites received a similar treatment, including Al-Masirah, the news outlet of the Iran-supported Houthi rebel movement, and Tehran's Arabic-language channel, Al-Alam.
The Justice Department has executed similar seizures in the recent past, including the October 2020 action that shut down 92 disinformation websites linked to Iran's Islamic Revolutionary Guard Corps (IRGC). This most recent action, however, has drawn criticism, as the DOJ's primary criterion for the seizures appears to be their connections to sanctioned groups, rather than the actual hosting of Iranian disinformation.
The documents below illustrate the tools that the U.S. government has employed to address Iranian disinformation, as well as the necessary cooperation between both U.S. agencies and private companies to bring such forces to bear.
*          *          *          *          *
An announcement for the Justice Department (Document 1) notes that 33 of the seized websites were used by the Islamic Radio and Television Union (IRTVU), and an additional three sites were operated by an Iraqi Shiite paramilitary group, Kata'ib Hizballah (KH). Both IRTVU and KH had been previously labeled Specially Designated Nationals (SDNs) by the Office of Foreign Assets Control (OFAC). According to the Department of the Treasury, SDNs are individuals or companies owned or controlled by nations targeted for economic and trade sanctions, as well as other individuals or entities, such as terrorists or drug traffickers, who are identified under non-country specific programs.  Their U.S.-based assets are blocked and U.S. persons are forbidden from conducting business with them. According to the announcement, "SDNs are prohibited from obtaining services, including website and domain services, in the United States, without an OFAC license," and neither IRTVU nor KH obtained such a license before using the seized domains.
OFAC's classifications of IRTVU and KH as SDNs, in 2020 and 2009 respectively, were prompted by executive orders. In an October 2020 statement entitled, "Treasury Sanctions Iranian Entities for Attempted Election Interference" (Document 2), the Islamic Revolutionary Guard Corps Qods Force (IRGC-QF) is named as an entity designated as an SDN under Executive Order 13848 for "having directly or indirectly engaged in, sponsored, concealed, or otherwise been complicit in foreign interference in the 2020 U.S. presidential election." Subsequently, the IRTVU was also named a SDN pursuant to E.O. 13848, "Imposing Certain Sanctions in the Event of Foreign Interference in a United States Election," (Document 3), as an entity owned or under the control of the IRGC-QF. Document 2 notes, "Components of the Government of Iran, disguised as news organizations or media outlets, have targeted the United States in order to subvert U.S. democratic processes." Additionally, "disinformation campaigns run by the Iranian regime focus on sowing discord among readers via social media platforms and messaging applications, and frequently involve mischaracterizing information."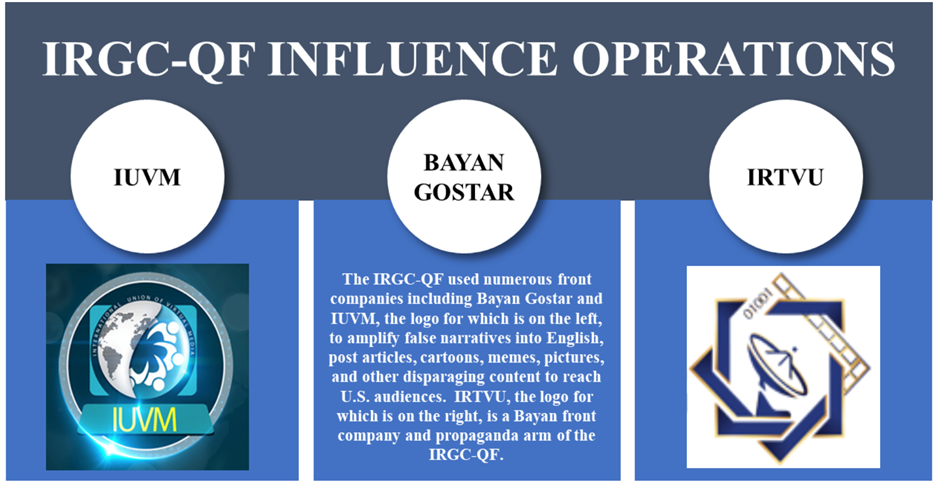 Source: U.S. Department of the Treasury, Press Release: "Treasury Sanctions Iranian Entities for Attempted Election Interference," October 22, 2020.
Similarly, in 2009, OFAC designated Kata'ib Hizballah as an SDN pursuant to E.O. 14438, "Blocking Property of Certain Persons Who Threaten Stabilization Efforts in Iraq" (Document 4). The related Treasury press release, "Treasury Designates Individual, Entity Posing Threat to Stability in Iraq" (Document 5) notes that OFAC designated "Iraq-based Shia extremist group Kata'ib Hizballah" as an SDN "for threatening the peace and stability of Iraq and the Government of Iraq." The press release also connects KH and the IRGC-QF, as "the IRGC-QF provides lethal support to Kata'ib Hizballah," and notes that IRGC-QF had been previously designated as a Specially Designated Global Terrorist by the Treasury Department in 2007. Document 5 emphasizes the importance of these designations as a national security lever, as they play "a critical role in our efforts to protect Coalition troops, Iraqi security forces, and civilians from those who use violence against innocents to intimidate and to undermine a free and prosperous Iraq."
The June 2021 seizure represents the latest chapter in the saga of U.S. influence on cyberspace, particularly regarding U.S.-Iranian relations. In a similar 2020 action under the Trump Administration, the United States seized 92 domains operated by the IRGC. In an October 7, 2020 press release by the DOJ, entitled "United States Seizes Domain Names Used by Iran's Islamic Revolutionary Guard Corps" (Document 6), "four of the domains purported to be genuine news outlets but were actually controlled by the IRGC and targeted the United States for the spread of Iranian propaganda to influence United States domestic and foreign policy in violation of the Foreign Agents Registration Act (FARA), and the remainder spread Iranian propaganda to other parts of the world." A week prior, Twitter shared that it had acted on information provided by the FBI, suspending roughly 130 Iranian-based accounts "attempting to disrupt the public conversation during the first 2020 US Presidential Debate."
Based on intel provided by the @FBI, last night we removed approximately 130 accounts that appeared to originate in Iran. They were attempting to disrupt the public conversation during the first 2020 US Presidential Debate.

— Twitter Safety (@TwitterSafety) October 1, 2020
Given the overwhelming number of web domains and social media platforms owned by American companies, the United States government wields a significant amount of both influence and control over activities and events in cyberspace. The exercise of such power can often impact foreign relations in other arenas. After the June 2021 seizure, Iranian President Hassan Rouhani's chief of staff suggested that such actions do not "seem constructive when talks for an agreement on the nuclear issue are underway."
In addition to concerns over the operation's impact on the U.S.-Iranian nuclear talks, the action has also raised concerns about its effect on free speech. Critics have accused the Justice Department of an overly broad, murky application of sanctions, based on connections to SDNs, rather than the actual content hosted on the sites. Matthew Petti at The Intercept noted that, far from being purveyors of Iranian disinformation, "Several of the censored sites are part of religious movements at odds with the Iranian government —longstanding and public confessional rifts in Shia Islam over the role of religious authority in civil government." Others have focused on the contradictory messaging created by these operations, specifically around freedom of information. Slate's Joshua Keating contends that while election interference is a serious issue, a "world in which governments all reserve the right to tightly control the information that can reach their citizens from outside their borders is exactly the sort of world that governments like Russia, China, and Iran want to create."
The Documents