"Still Interested" Letters Add Insult to Injury of Long-Ignored FOIA Requests
Washington D.C., March 12, 2021 - The Defense Department finally replied to the National Security Archive's September 2006 FOIA request early last year. After nearly 15 years of waiting, on January 24, 2020, the OSD/JS FOIA Office wrote:
"This pertains to your enclosed Freedom of Information Act request, which you submitted on September 26, 2006. We received your request on the same day and… regret the delay in completing your request.
We are continuing to process your FOIA submission among our current workload of approximately 3,163 requests. However, we understand that due to the passage of time and changing needs of requesters, it is possible that you no longer have an interest in the requested information. We need to receive your confirmation of continued interest by January 31, 2020. If we do not hear from you by this date, we will conclude that you are no longer interested in this information and will administratively close your request." (emphasis added)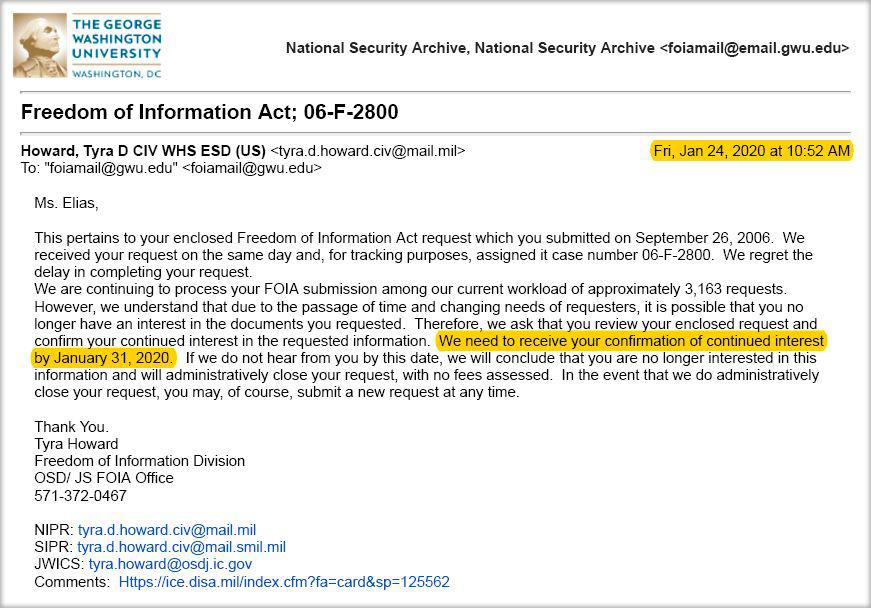 DOD gives our office only 7 calendar days to respond before closing our 14-year-old request
Seven calendar days was all the time DOD was allowing us to respond to a request our office had been (somewhat) patiently waiting for a reply to for a decade and a half. This is in direct violation of long-standing Department of Justice Office of Information Policy (OIP) guidance that agencies provide requesters *a minimum* of 30 days to respond to these kinds of "still interested" letters.
The Defense Department isn't alone. The National Security Archive's 2021 Sunshine Week Audit has found that many agencies still abuse "still interested" letters – out of the 84 "still interested" letters we received between November 2019 and the present, 17 provided fewer than 30 days to respond. Put another way, more than one in five, or 20 percent, of all "still interested" letters the Archive received in the last year and a half did not follow OIP guidance.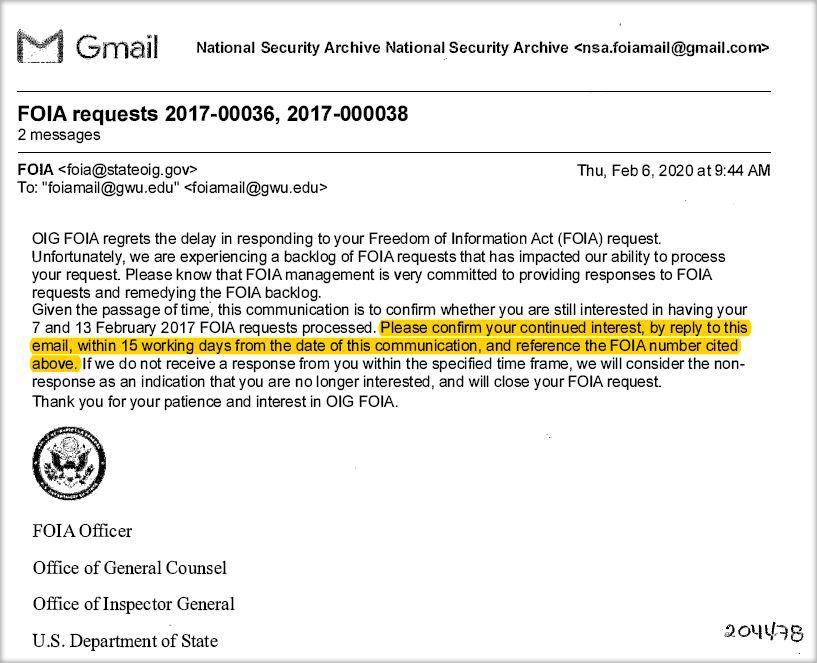 DOS IG's office provides an unacceptably short 15-business days for a reply
One letter from the State Department Office of Inspector General gave us 15 working days to reply before closing our years-old request. Other "still interested" letters from both the Office of the Director of National Intelligence and the Office of Management and Budget were even more stingy, providing our office with only 14 calendar days to respond.
COVID-related mail delays (because many agencies insist on communicating via snail mail) are only exacerbating the problem. Take an August 17, 2020, letter from DOD, for example. This letter was sent on August 17 but wasn't received by our office until September 25, leaving us only four calendar days to respond before our request was closed. Factor in that many FOIA requesters are now working remotely and may have difficulty accessing physical mail sent to their office, and the problem gets worse.
A New Twist on a Long-Standing Problem
Some agencies are now putting a spin on these "still interested" letters by combining them with a request for clarification, which looks like this:
In this instance, your request does not adequately describe the records sought; therefore we are unable to process it at this time and your request has been put on hold. If you wish to pursue this request, please provide clarification within 10 days from the date of this letter. If we do not receive a response from you within the specified time frame, we will consider the non-response a withdrawal of your FOIA request and no further action will be taken on it.
An agency seeking clarification on a FOIA request may seem innocuous, but this assumes that the FOIA request in question requires clarification in the first place – which is often not the case. Agencies frequently improperly deny requests by claiming they are too broad, vague or burdensome, even though the requests meet all the requirements of the FOIA and case law. To add insult to injury, these letters rarely, if ever, include language on appeal rights that would notify requesters that they may challenge the over-broad determination.
Yet agencies continue to try and trick inexperienced requesters into thinking an agency's inability or unwillingness to search for and review requested records is the requester's fault, rather than the agency's own cumbersome software. Combining this already-devious tactic with a "still interested" letter is a tactic that agencies should be prevented from using.
Why the Bait-and-Switch?
Government-wide FOIA backlogs are a well-known and growing problem, and it's likely that agencies employ "still interested" letters to close out requests to avoid adding them to their total queue and lighten their caseload – particularly before the end of the fiscal year, when agencies are required to report their FOIA statistics to OIP, allowing the agency to tout more successful (and misleading) statistics. (OIP does not require agencies to report on their use of "still interested" letters.)
OIP does nothing to discourage the faulty math; OIP's most recent summary of agency FOIA reports from FY2019 argues that agencies achieved a government-wide release rate of 94.4% (up from 93.8% in FY2018, if you can believe it). OIP calculates that overly-generous figure by counting nearly entirely redacted documents as successful partial releases, and excluding more than 270,700 requests closed (often improperly) over "administrative or procedural reasons". These "administrative and procedural reasons" include disputes over fees, referrals to other agencies, "no records" responses, and requests deemed "improper for other reasons" – which includes records labeled too vague or burdensome, and requests closed due to lack of timely response from a "still interested" letter. (A more accurate release rate calculated by including the administratively closed requests is 65 percent.) OIP's reporting is consistently so misleading that in 2015 Rep. Jason Chaffetz (R-Utah) accused then-OIP director Melanie Pustay of living in "la-la land" for testifying that she believed FOIA was being properly implemented and touting such successful release-rates.
Frustratingly, there are no government-wide statistics on the use of "still interested" letters. The closest the public has is a three-part Compliance Assessment on the use of "still interested letters" conducted by the National Archives and Records Administration's (NARA) Office of Government Information Services (OGIS). The report found inconsistent agency data and reporting on the use of such letters, and concluded that "the data does not capture key elements regarding the use of these letters that frustrate requesters, including the delay in an agency's response to the request prior to sending a still interested letter, the amount of time the requester is given to respond, or how many times a requester is sent still interested letters before the request is processed."
The issues surrounding "still interested" letters are a microcosm of the broader issues plaguing FOIA: inconsistent reporting; agencies flouting OIP guidance with no meaningful repercussions; and an unwillingness to adopt better technology – like making email the default for communicating with requesters. The problem has only been exacerbated by COVID-related disruptions to mail service and office life.
Unlike the larger problems with FOIA, however, the solution to "still interested" letters is easy: at a bare minimum, agencies should abide by DOJ guidance. Better still – don't send the letters in the first place.
* * *
This is the Archive's 20th FOIA Audit. Modeled after the California Sunshine Survey and subsequent state "FOI Audits," the Archive's FOIA Audits use open-government laws to test whether or not agencies are obeying those same laws. Recommendations and findings from previous Archive FOIA Audits have: directly led to FOIA fixes in both the 2016 FOIA Improvement Act (25-year B5 sunset) and the Open Government Act of 2007 (requiring agencies to report their ten oldest pending requests); exposed OMB's lack of action on FOIA fee regulations, ultimately prompting an Administrative Procedures Act lawsuit filed by Cause of Action that forced the agency to craft new (albeit lackluster) regulations; forced agences to craft explicit customer service guidelines; mandated FOIA backlog reduction; institutionalized the use of individualized FOIA tracking numbers; led to reporting requirements on the average number of days needed to process requests; and revealed the (often embarrassing) ages of the oldest pending FOIA requests - like FOIA requests so old they could rent a car. The surveys include: