In Memoriam:  Col. Gen. (ret.) Evgeny Maslin 1937-2022
Washington D.C., March 4, 2022 - The National Security Archive mourns the passing of a true hero of nuclear non-proliferation and U.S.-Russian and Russian-Ukrainian cooperation of the 1990s, Colonel General (Ret.) Evgeny Petrovich Maslin. 
General Maslin served as head of the 12th Directorate of the Russian Ministry of Defense responsible for the safety of nuclear weapons.  His tenure covered the key years 1992-1997, after the dissolution of the Soviet Union in 1991, which left some 25,000 nuclear warheads deployed across that vast territory. 
General Maslin was a crucial leader of the collective efforts to secure these nuclear weapons and to arrange their withdrawal from Kazakhstan and Ukraine for dismantlement and utilization with the support of the Nunn-Lugar cooperative threat reduction program.
U.S. Secretary of Defense Richard Cheney in 1991 estimated that Russia would be 99% successful in rounding up the Soviet Union's nuclear warheads, which still would have left 250 bombs bigger than Hiroshima on the loose.
Instead, not a single nuclear warhead was lost or stolen or exploded, thanks to the tireless work of General Maslin and his colleagues in Russia, Ukraine, and Kazakhstan, and the visionary funding provided by the Nunn-Lugar program. 
After he retired in 1997, General Maslin remained active in educational and non-proliferation work.  In 1999, he joined the premier Russian non-proliferation organization, the PIR Center.  He was generous with his time and expertise, working with young people, speaking at international fora, and writing incisive articles.  He participated in all three critical oral history conferences organized by the National Security Archive to document the Nunn-Lugar program, in St. Simons Island, Georgia (2013), in Astana and Kurchatov, Kazakhstan (2015), and in Siena, Italy (2019). 
In 2016, on the 25th anniversary of the U.S. Congress's adoption of Sen. Sam Nunn's and Sen. Dick Lugar's idea for cooperative threat reduction, Gen. Maslin received the Nunn-Lugar Award for Promoting Nuclear Security from the Carnegie Corporation of New York at a ceremony in the U.S. Senate Caucus Room on Capitol Hill.
Evgeny Maslin was born in 1937 in the Tambov region of Russia.  After enrolling in the S.M. Budenny Military Academy in Leningrad, he joined the 12th Directorate of the Ministry of Defense and eventually rose through the ranks to become its head in 1992.  This was a most dangerous time when Soviet-era nuclear weapons, both tactical and strategic, were scattered around several former republics, now independent states.  Maslin oversaw the efforts to pull all the weapons back into Russia where the safeguards against accident or theft were more dependable. 
In his mission, he participated in negotiations with the leaderships of independent Kazakhstan and Ukraine, as well as with U.S. political and military officials involved in the Nunn-Lugar program helping the post-Soviet state to implement their START and NPT obligations.  General Maslin was universally respected by his political and military counterparts. 
Evgeny Petrovich immediately responded to the invitation to take part in the series of critical oral history conferences documenting the history of the Nunn-Lugar program launched by the National Security Archive in 2013.   Through seven years of our project, along with General Viktor Esin, he was our most committed and reliable partner.  He devoted a great deal of time to preparing, reading documents, and then candidly explaining, debating, and asking questions of other participants.  But his skills and talents were not limited to his military career. 
Evgeny Petrovich will always be remembered by everybody who spent time with him for his personal warmth, his great sense of humor, encyclopedic knowledge of many subjects, including art and good wine, and for his singing.   During his last conference with us, in September 2019 in Siena, after discussing with his usual, indispensable tact the difficult subject of the 1994 Budapest memorandum and the withdrawal of nuclear weapons from Ukraine, he sat with his Ukrainian and American colleagues at the dinner table long after midnight and led the group in singing—both in Ukrainian and in Russian—ballads of the "Great Patriotic War" and even songs about love that united them.
In his beautiful eulogy of Evgeny Petrovich, Vladimir Orlov, the head of the Russian PIR Center, called Maslin "an unattainable role model."  With the passing of General Maslin, it seems the era of cooperative security has come to an end thirty years after it started.  But the memory of the singing nuclear general who guarded our peace will remain as a guiding light for future generations of military officers, diplomats, and ordinary citizens who will want to restart the process again.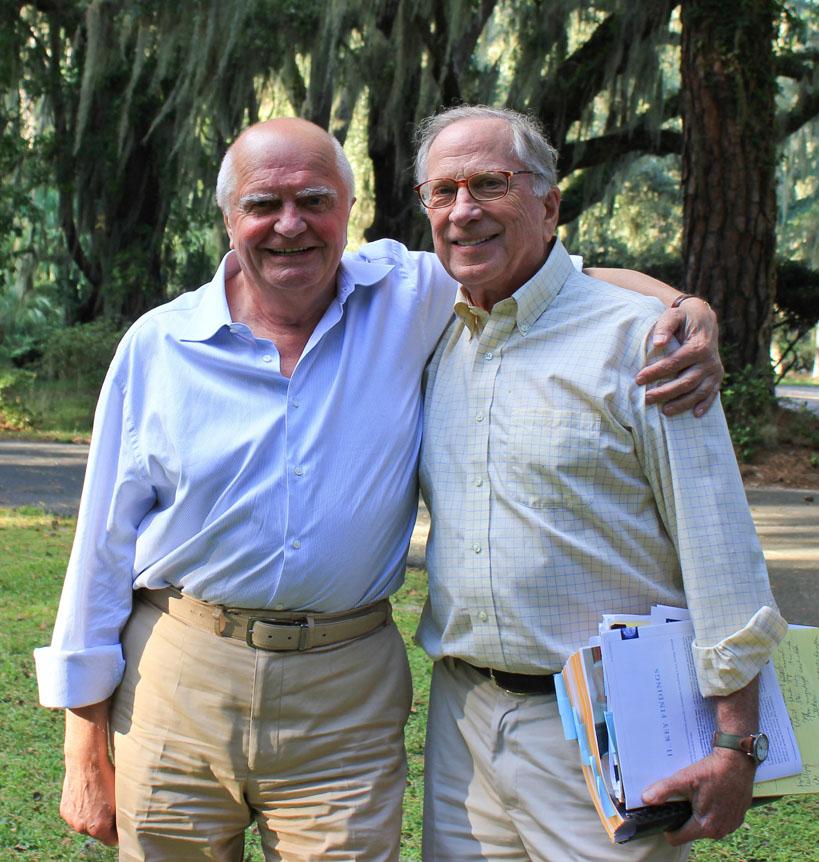 Col. Gen. (ret.) Evgeny Maslin and senator Sam Nunn.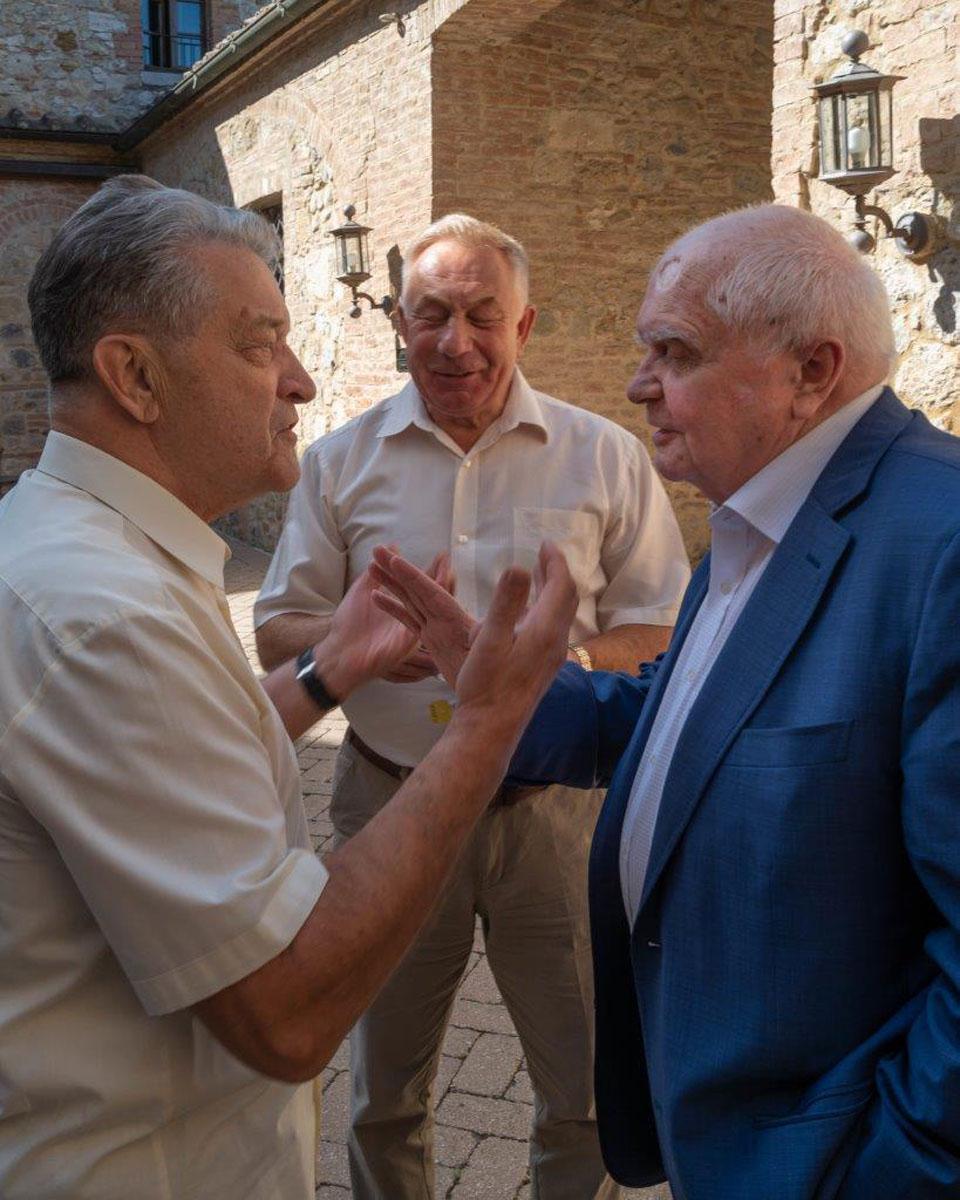 Maslin discusses difficult subjects with his Ukrainian counterparts Generals Ihor Pustovy and Mykola Filatov at the Nunn-Lugar conference in Siena, 2019
Evgeny Maslin addresses the opening session of the Nunn-Lugar conference at the Kazakh Foreign Ministry in Astana, 2015
Evgeny Maslin leads his Kazakh and American counterparts in singing a Russian song "Katyusha" at a dinner after the first day of the conference, Astana, 2015