January  6,  2021,  Riot  Timeline
Keys to the Timeline
Minute-by-minute reporting of the Capitol attack comes primarily from open sources (much of it video footage and images captured by smartphones) obtained during investigations by major news outlets.
Rioters breached the Capitol Building from both the East and the West side of the building.

Events from the west side of the Capitol are color-coded green;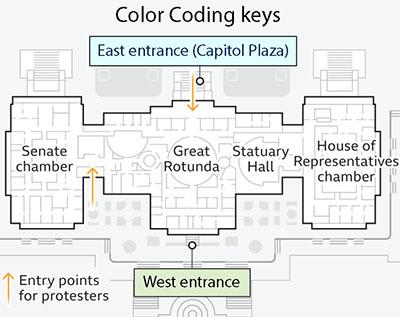 The east side breach is color-coded blue.
Who's Who (as of January 6, 2021)
Steve Bannon -  Former Chief Strategist, White House
William Barr -  Attorney General, Department of Justice (February 14, 2019 – December 23, 2020)
Muriel Bowser -  Mayor, District of Columbia
Patrick Byrne -  Businessman, former CEO of Overstock
Pat Cipollone -  Counsel, White House
Jeffrey Clark -  Acting Assistant Attorney General for the Civil Division, Department of Justice
Robert J Contee III -  Chief, Metropolitan Police Department (MPDC)
Kevin Donahue -  City Administrator, District of Columbia
Richard Donoghue -  Acting Deputy Attorney General, Department of Justice
Michael Flynn -  Former National Security Advisor, Executive Office of the President
Rudy Giuliani -  President Trump's Personal Lawyer
Robert Glover -  Commander, Special Operations Division, Metropolitan Police Department (MPDC)
Donnell Harvin -  Chief, Homeland Security and Intelligence, HSEMA
Paul Irving -  House Sergeant at Arms
Ryan McCarthy -  Secretary of the Army (SECARMY)
Mark Meadows -  Chief of Staff, White House
Molly Michael -  President Trump's Executive Assistant
Chris Miller -  Acting Secretary of Defense (A/SD)
Mark Milley -  Chairman, Joint Chiefs of Staff (CJCS)
Peter Navarro -  Director, Office of Trade and Manufacturing Policy
Rick Perry -  Former Secretary, Department of Energy
Yogananda Pittman -  Chief, U.S. Capitol Police (USCP), Sund's successor
Sidney Powell -  Attorney, Donald Trump Legal Team
Dr. Christopher Rodriguez -  Director, D.C. Homeland Security and Emergency Management Agency (HSEMA)
Jeffrey Rosen -  Acting Attorney General, Department of Justice (December 24, 2020 – January 20, 2021)
Michael Stenger -  Senate Sergeant at Arms
Steven Sund -  Chief, U.S. Capitol Police (USCP)
Virginia "Ginni" Thomas -  Attorney, wife of Supreme Court Justice Clarence Thomas
General William Walker -  Commander, D.C. National Guard (DCNG)
Jump to January 5 events
Jump to January 6 events
Jump to January 7 events