Lawsuit Saves Trump White House Records
Washington, D.C., February 11, 2021 – The National Security Archive et al. v. Donald J. Trump et al. lawsuit, filed December 1, 2020, to prevent a possible bonfire of records in the Rose Garden, achieved a formal litigation hold on White House records that lasted all the way through the transition and Inauguration Day, the preservation of controversial WhatsApp messages, and a formal change in White House records policy.
The Archive worked with co-plaintiffs – the Society for Historians of American Foreign Relations (SHAFR) and the American Historical Association (AHA), as well as Citizens for Responsibility and Ethics in Washington (CREW) – to bring the case under the records laws against President Trump, the Executive Office of the President, and the National Archives & Records Administration (NARA).
The lawsuit argued that Trump White House policy that only saved via screen shots the instant messages of government business – such as Jared Kushner's negotiations with Saudi prince bin Salman – failed to capture the complete record that the law required.  Plaintiffs pointed to repeated media accounts of White House failures to preserve records, including President Trump's reported ripping up of documents in the Oval Office, former aide Steve Bannon's use of disappearing instant messages to communicate with campaign embeds at the agencies, private email use by Ivanka Trump and other top officials, and the routine use of encrypted WhatsApp messages by Kushner and others.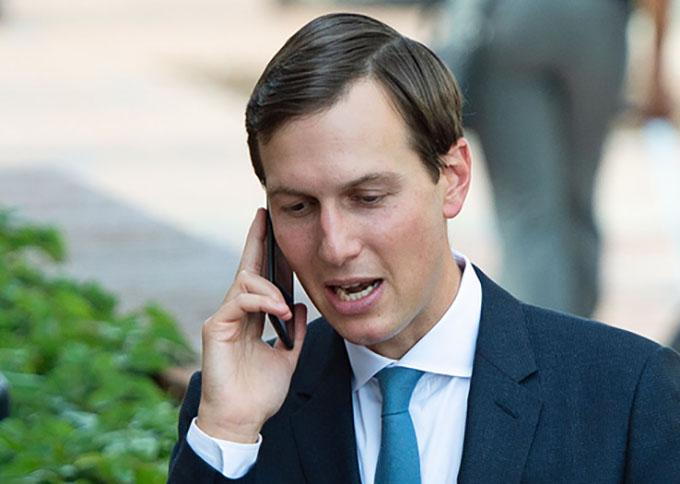 President Trump's son-in-law and former presidential adviser Jared Kushner speaks on the phone.
Justice Department lawyers defending against the lawsuit have informed plaintiffs that White House records managers have now successfully deployed an archival tool in the WhatsApp software to capture full copies including links and attachments of the WhatsApp threads in Kushner's account and other WhatsApp users at the White House.
According to lawyers for the National Archives, they have also preserved a complete set of President Trump's tweets, including the ones he subsequently deleted; and records managers had previously deployed tools developed by ArchiveSocial and Smarsh to preserve other social media messages from White House staff, including Facebook posts, tweets, and Instagrams, and required users of personal email to export any official business emails over to official email archiving systems.
As a result of press accounts and the Archive v. Trump lawsuit, the Trump White House Counsel's office warned staff three times during the transition, on November 19, December 14, and January 7 (!), to preserve all presidential records including any official business messages on their personal devices in their original electronic form.  Effectively, the Counsel's office had rescinded its own prior policy, dating back to 2017, that a screen shot was good enough.
Justice Department lawyers have also informed plaintiffs that the Biden White House Counsel has formally rescinded that screen shot policy and now requires complete electronic copies to be preserved in official records systems.
National Archives officials admitted to plaintiffs that they will not know for months or longer whether there are significant holes in the electronic records of the Trump White House, because even though NARA took formal ownership of those materials on January 20, 2021, the actual digital transfer is still ongoing from White House data centers and cloud storage.  However, National Archives officials expressed optimism that the automatic capture of White House email that was already in place, plus the WhatsApp exports and other social media preservation, would address plaintiffs' concerns.
Represented pro bono by expert records lawyer Anne Weismann and CREW's senior counsel Nikhel Sus, the plaintiffs today informed federal district Judge Kentanji Brown Jackson that we are voluntarily dismissing the suit without prejudice, leaving open the possibility of re-filing if any Trump records destruction comes to light in the future.
The documents